The simply sew mode has taken over. I'm on to the next easy quilt top. Grabbing the bundle of miscuts and started planning.
These were leftover from a hair brained idea I had after helping a friend make this quilt a few years ago.
So let the planning begin! Quick and easy is the first rule. I could just sew the squares together with low volume prints, but I don't have enough low volume in my stash. The last quickie was made with HST's so those are out. How about a simple nine patch?! The quickest and easiest way to get ideas is Google. So here's what tickled my fancy. Googling "Nine patch with applique" brought up this lovely from
Loose Threads
. It's simple and those borders...gorgeous, but not quick.
I like this one, it's the pattern I'll use but re-sizing the pattern is necessary to make the best use of my fabric. Now I need to find the WOW factor. Of course for me that means a little applique or interesting border.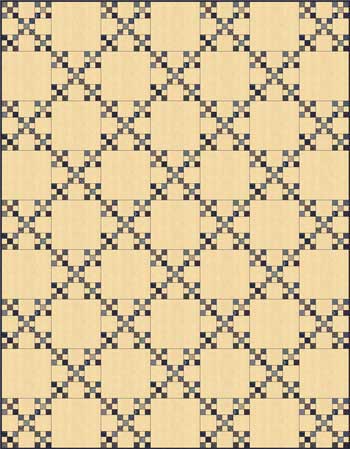 Well I stumble upon this over at
Q is for Quilter
. Love the border but it's too much work. So let's Google holding hands quilt border and see what pops up.
How darling is this border!? It too is just more work than I care to do at this point. You can find it over at
Creative Ribbons.
The one below looks more doable. If I decide to use it the girls would be all blue and I'd leave off the scallop on the bottom, maybe use ric-rac for the arms? and buttons for the heads? I found this picture on Pinterest and tried to go to the link provided with no luck. So
here's the link
to the Pinterest Board where it was found.
Now that I've an idea, I can start cutting. That doesn't mean I'll stick with the entire plan, but I know I'm doing the nine patches. The quilting could always be the WOW, and you know sometimes simple is best. Only time will tell how this one will turn out.
~ Lea Anne ~
Pin It