Happy Monday Morning quilty friends! It the start of another wonderful week. I've so much planned for the Studio and the garden this week. The to-do lists are growing faster than the tulips in my yard. Yesterday was sun up till sundown Studio time due to the muddy mess in my yard, although it was a beautiful sunny day. Now today I get to plant potatoes and finish putting together this beautiful Lone Star quilt.
The Lone Star is by far my favorite quilt pattern. They look intimidatingly hard, but really if you follow some simple rules they can be fairly easy. The most important rule is PIN PIN PIN PIN! You can't get to many pins when working with the stretchy diamonds. Even at this stage in my quilt it's still quite stretchy. And there's enough starch in the fabric to stiffen a limp noodle.
Since we're talking about the tricks of this amazing pattern here's a great tutorial found at
ModaBakeshop
on how to make a Lone Star using precut Jelly Roll.
You really don't have to look very far to find a free Lone Star pattern. And you know me...I'm all about learning for FREE.
RJR Fabrics has the largest selection of free Lone Star Patterns
. Big Stars, Little Stars and many other great patterns that don't even have stars. Here's a few of my favorite FREE patterns you can find at RJR Fabrics.
Oh I love this one!
So your still intimidated? Okay here's the quickest and easiest way to make a Lone Star.
QuiltSmart
is a product that makes it super easy. Its a fusible interfacing that uses NO diamonds and no strip piecing . My first Lone Star quilt was made using Quiltsmart and it made me feel smart enough to make one with out it. It comes with very clear instructions and there's a instructional video on their website that I found most helpful. You really cant mess up this one! Unless your like me and you don't prewash those bright reds. Oh my goodness I cried! My red fabric bled all over the place. That's a story for another day....DISASTER OVERLOAD!
So after that little(big) mishap I decided to venture out of the comfort zone and try to make one without Quiltsmart. So I did a little research and found this book at
Diane's Native American Quilts.
It's a great book with all the tips you'll ever need to make a Lone Star. It was so great I gave it to a non quilting Lone Star quilt loving friend that said she might like to make one someday. Nowadays I use EQ and the helpful tips I've learned over the years.
So your still not sold on making a large Lone Star? Okay.. how about a small wall hanging?
I found this free tutorial over at Hopeful Homemaker
. Jennifer has put together a excellent tutorial for this darling little quilt. And her over sizing of the inset pieces makes insetting easier....just trim away any UH-OH's!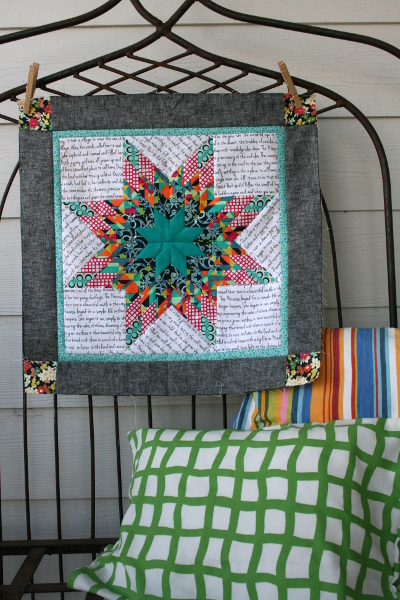 Well are you ready to start a Lone Star Quilt? What's the worst thing that could happen?
~ Lea Anne ~
Pin It