Since the very first quilt I made I've always drafted my own patterns. Occasionally buying magazines or books for inspiration. Since my quilting time has become so limited, drafting quilt patterns and quilty math is not something I want to waste precious time doing. Well when I saw this little cutie on Instagram I knew it was a must make. Below is the fabric pull(purchase) for this adorable quilt.
Of course I can't help but see so many different options for this quilt. My quilters eye is seeing several different changes I could make. Maybe a snowman or two, a little reindeer hiding in the trees, Christmas packages in the back of one of the trucks or some Christmas tree decor. Fussy cutting little elf or Santa driving the truck. The possibilities are endless!
Vintage Christmas was designed my Erica Arndt. Not a well known quilter but I see a bright quilt future for this amazing Home Schooling mom.
Below is her Vintage Christmas quilt. You can find the pattern and fabric requirements on her blog
Confessionsofahomeschooler
. Hop on over and give her some quilty love!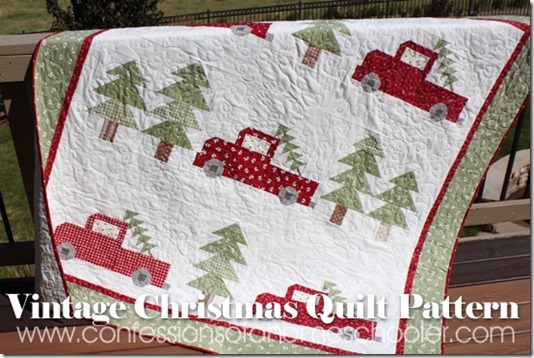 ~ Lea Anne ~
Pin It